Laminate made from a range of layers
Laminate flooring consists of several layers and components. Our laminate products are made up of a number of innovations and technical developments. In the ongoing production process, the various components such as decor paper, melamine resin overlay and HDF core board are positioned one above the other and then pressed together at high temperatures.
The surface of the laminate flooring is made durable by this procedure and can be further processed following a cooling phase in a climate-controlled storage area. Some laminate products undergo an additional production process, whereby footfall sound insulation is laminated onto the underside of the laminate panel. This diagram illustrates the composition of laminate flooring.
Product composition laminate flooring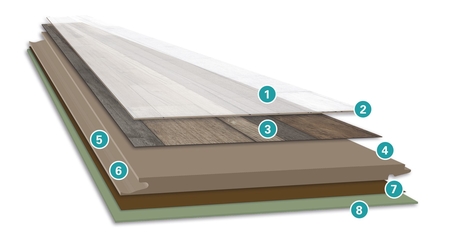 Surface texture

Various embossings (wineo 300 and wineo 500) ensure a high degree of authenticity. Matt and high gloss finishes (wineo 550) give the decor brilliance and a depth of colour.

Wear layer

The particularly durable melamine resin overlay (wineo 300 and wineo 500) or the top coat (wineo 550) is the basis for classification into the corresponding application areas.

Decor

The decor paper (wineo 300 and wineo 500) or the decor varnish (wineo 550) provides a variety of design options.

Core board

The HDF core board HDF-Protect® (wineo 300) or Aqua-Protect® (wineo 500 and wineo 550) is protected against swelling.

Profile connection

Thanks to the tried-and-tested LocTec locking system the panels can easily be clicked into each other. wineo 500 XL V4 also features a fold-down locking on the short panel side.

Profile seal

A special profile seal protects the whole connection system against moisture.

Backing

The melamine resin backing (wineo 300 and wineo 500) and the kraft paper backing (wineo 550) provides balance and guarantees high dimensional stability.

Insulation mat

Optionally available for wineo 300 and selected products in the wineo 500 range: the integrated reflected walking and impact sound reduction, Noise-Reduct basic (wineo 300) and soundPROTECT (wineo 500).