Home Office
The home office is a place of peace, creativity and productivity. And because working in a home office has become routine for many, you should create a good working atmosphere. People who feel comfortable are creative and productive. Since the floor covering takes up the largest area in the study after the wall, the decision for the right floor covering should not be made solely on the basis of visual considerations. Here we explain what you should look out for when choosing the right floor covering for the study.
Light fastness and UV resistance of resilient flooring
Natural light is best for working. With floor-to-ceiling windows, you can look forward to a light-flooded study.
Here, care should be taken to ensure that the window is not reflected in the screen at a computer workstation. This tires the eyes and makes concentrated work more difficult.
If you have many windows, you will also get a lot of sunlight on the floor covering. But here you don't have to worry. Floor coverings from wineo retain their colour fastness to the greatest possible extent even in intense sunlight.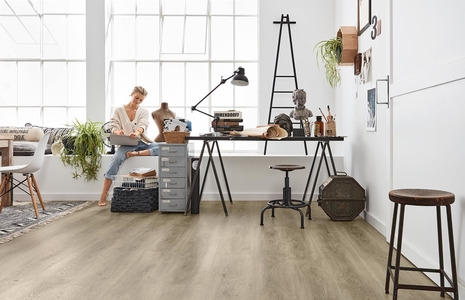 According to the EN ISO 105-B02 test procedure, laminate flooring and resilient flooring are tested for light fastness and achieve excellent results here. For everyday use, this means: Laminate flooring and resilient flooring such as the vinyl flooring and PURLINE organic flooring are very lightfast and hardly fade over long periods of time.
Despite a high light fastness level, colour changes or fading cannot be ruled out when exposed to intense sunlight. This applies to all resilient, textile and wooden floor coverings. Optionally, additional shading of the room should be considered.
Castor chair suitability is important for a floor covering
In the office, a chair should be used that offers a comfortable and, above all, healthy sitting position. For this reason, most offices have a classic swivel chair with hard castors. These chair castors put a strain on the floor covering both in terms of point load and through the abrasion of the castors on the floor covering.
To reduce the mechanical load on the floor covering, a floor protection mat can be used. As this is often not used for optical reasons, it is essential to ensure that the swivel chair is equipped with type W castors. Resilient flooring such as vinyl flooring or the healthy PVC-free alternative PURLINE organic flooring are designed for use with chair castor type W and can withstand 25,000 revolutions in laboratory tests without visible damage.
This gives you the security that the floor covering is durable and can withstand high loads despite intensive use and high stress.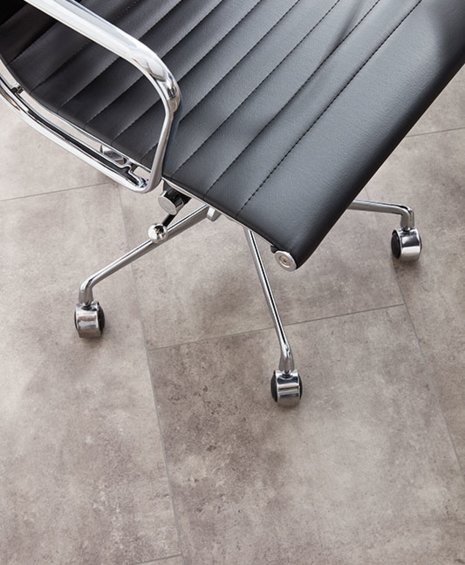 Many designs in stone and wood optics
When choosing the right floor for the home office, however, it is not only the technical properties that should be decisive for the purchase. You only really feel comfortable when the technical requirements are met and the look is right.
With the floor coverings from wineo, there is definitely something for every wish and for every style of furnishing. All collections shine with a wide variety of designs. From authentic wood looks to urban tile formats, wineo flooring can create a feel-good atmosphere for concentrated and productive work in your own study. Different panel formats, right up to the XXL plank with a length of 1.8m, make the study look large.
Our recommendations for the study
Decor overview wineo 1000 26 Results