High traffic load on the children's room flooring
The children's room or playroom is the retreat for children. Here, all furnishings are put to a tough test. Especially the flooring in the children's room has to endure a lot. Here, things are pulled, pushed, thrown and dropped. The children's creativity knows no bounds and all activities take place on the floor.
The floor is subjected to a lot of stress and has to withstand a lot. The choice of a suitable flooring in a playroom or children's room must therefore be carefully considered. After all, the floor should last a long time and be easy to maintain. After all, no one wants to change the floor covering after a short time because it does not meet the requirements of a children's room.
A warm surface is important
As children play and romp on the floor a lot, it is important that the flooring has a certain warmth. Resilient flooring such as vinyl flooring, design flooring or PURLINE organic flooring from wineo has a resilient surface that appears warmer than other floor coverings such as laminate flooring or tiles. Children feel comfortable here and enjoy playing on the floor.
Another advantage of an elastic surface is that the flooring is not perceived as hard. If you look at tiles in direct comparison, these materials are extremely hard and cold and do not bring a feeling of well-being into the children's room. The elastic surface is also very non-slip, which offers children extra safety when playing and romping around and minimises the risk of injury.
In combination with underfloor heating, resilient flooring proves to be the ideal companion in a children's room or playroom and provides a pleasant feel-good atmosphere. Resilient flooring also has the property of muffling walking noises, so the floor is perceived as quiet. So when it gets noisy in the children's room again, these properties prove to be particularly valuable.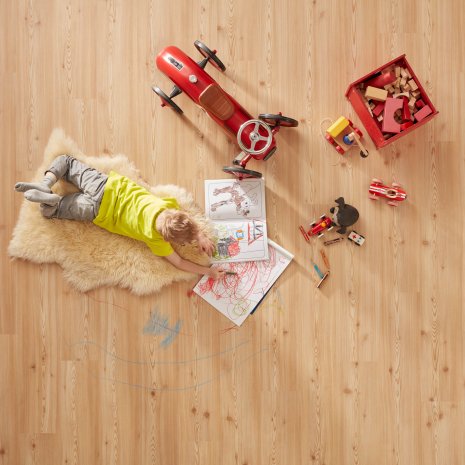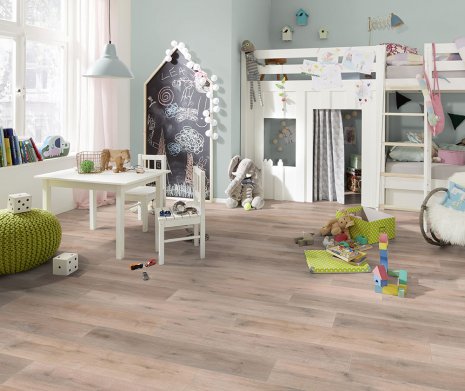 Cleaning and hygiene of the flooring in the children's room
Because a lot happens in a children's room, the cleaning properties are also a very important criterion when choosing the right floor covering. Vinyl flooring, design flooring and also PURLINE organic flooring have very good cleaning properties and can be kept clean with very little effort. PURLINE organic flooring in particular is very easy to clean: The flooring does not bind dirt to the surface, so most loose dirt can be removed simply by vacuuming. Compared to carpets, cleaning is therefore very convenient. With carpets, small pieces of dirt, such as crumbs, fall between the fibres and have to be removed with a lot of effort. You do not have this problem with PURLINE organic flooring.
Heavier soiling can be removed easily and without much effort by damp mopping. You can find suitable cleaning instructions in our video portal.
Selected floorings for the children's room
Decor overview wineo 1000 26 Results