NEW THINKING DELIVERING NEW SOLUTIONS.
"Our family business is centred on innovation and delivering sustainable product solutions to the market for more than 70 years.
This is why cradle to cradle is so fitting: it considers materials, products and corporate responsibility in their overall ecological impact. Product intelligence, as it were, modelled on nature. PURLINE organic flooring boasts Cradle to Cradle Silver accreditation and sets an example for healthy buildings.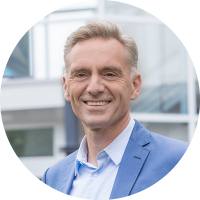 We want to contribute to the wellbeing of people and places. For us, taking responsibility seriously means continuous development in terms of sustainable products and solutions - with a healthy dose of curiosity for ever new solutions and a commitment to doing things better. This is inherent in our corporate DNA.
Matthias Windmöller
CEO/CSO
Our future is green:
We make the world easier and more liveable with healthy and sustainable flooring solutions.
Windmöller corporate vision
Raw material selection and development
Bio instead of petrochemicals for the production of the high-performance composite material ecuran, which consists mainly of vegetable oils such as rapeseed or castor oil and naturally occurring mineral components such as chalk.
Global Footprint
As a manufacturer and producer, we are especially committed to environmental and climate protection. We bear ecological responsibility and try to playour part every day. We are conscious about how we use valuable energy resources and look to use renewable energy sources wherever possible. Both in the development and in the purchase of raw materials, we always look for the most ecologically viable solution.
Transparency
Transparency is important to us. For this reason, the formulations of our ecuran-based products are tested and evaluated by independent institutes. This includes regular inspections by external testing bodies, such as EPEA (C2C) and TÜV Proficert. The results are consistently sustainable: emission values & ingredients of ecuran-based products meet the highest requirements - free from PVC, formaldehyde or plasticisers.
In addition, we draw up our own life cycle assessments for each production site. These help us to continuously reflect on our sustainability development.

We work collaboratively with partners and networks to initiate new and exciting sustainable ideas.
Discover our sustainable floorings here