The bathroom - a wellness oasis
The bathroom is a personal retreat for many people. In the bathroom, one would like to relax with a warm bath and simply switch off after a long and hard day at work. A pleasant and warm atmosphere is important for this, because only then can you really feel good.
In the bathroom, a lot of value is placed on the furnishings and the interior, because everyone wants to transform their bathroom into a personal wellness oasis. The bathroom is furnished with a lot of heart and attention to detail and often reflects the personality of the person who lives in the house or has furnished the bathroom. Colourful accents are often used here to round off the overall effect of the room.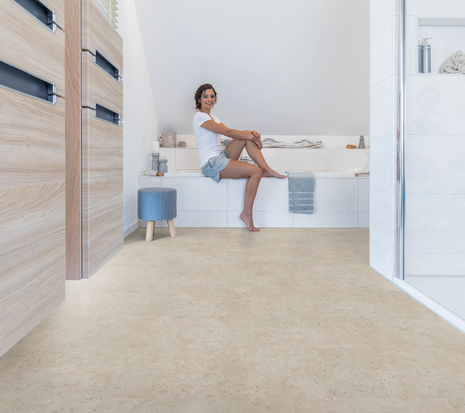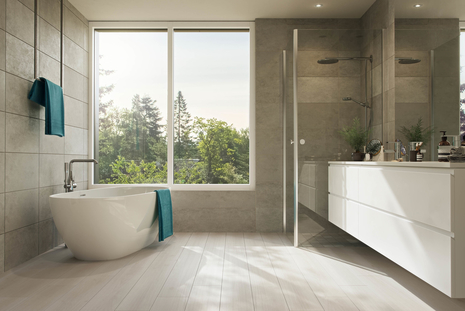 There is no need for tiles in the bathroom
When it comes to bathroom flooring, many people still trust the classic tile, and for good reason: tiles are robust, water-resistant and, especially in a wet room such as the shower, offer the security that water can drain away cleanly. In the bathroom, you are often barefoot and tiles are by nature a hard and also cold floor covering. If you don't have underfloor heating in the bathroom, you will quickly get cold feet.
If you want to feel good in the bathroom, you should be brave when choosing the floor covering, even look past the tiles sometimes and find out about resilient floor coverings. With the advancement of technology, many floor coverings have now developed to the point where they are water-resistant and therefore also suitable for installation in a bathroom. These floor coverings from wineo include vinyl or design flooring, laminate flooring or also the PURLINE organic flooring. With flooring like this, you can take a completely different approach to room design, as there are many different formats and designs available. However, it is important to mention that these floorings are not approved for wet rooms, such as shower areas. You should still use tiles here.
Technology decides
We have already noticed that a design floor is visually indistinguishable from a real tile. Especially with our decors with an authentic grout look, you get the impression of holding a real tile in your hand. In terms of formats, we have vinyl flooring in the classic 30 x 60 cm format. For a special look, we also have tile formats of 1000 x 500 mm or 914 x 480 mm - so there is something to suit every taste.
The main advantage of vinyl flooring or design flooring is that you do not have to glue it to the subfloor, as is the case with tiles, for example. Although we also offer vinyl flooring or PURLINE organic flooring for gluing, click vinyl flooring or PURLINE organic flooring for clicking is the best choice especially for quick renovations. Because here you can install the flooring without using a lot of tools, without noise and without dirt, and you can also use the flooring immediately after installation. And if you no longer like the flooring after a few years, you can remove the resilient flooring just as quickly as you installed it. And without leaving any residue.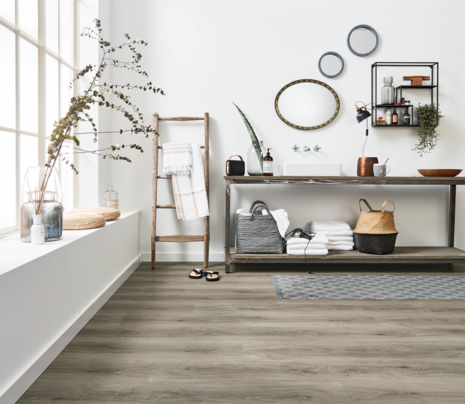 Be safe in the bathroom with PURLINE organic flooring
Anyone who has decided on a resilient floor covering but is not yet sure whether it should be the classic design floor / vinyl floor or the wineo PURLINE organic floor could take another look at the composition of the floor covering. The vinyl flooring is the classic PVC flooring, but without harmful softeners. However, if you want to be absolutely sure, e.g. for allergy-related reasons, you should opt for PURLINE organic flooring. PURLINE is a polyurethane floor covering and consists largely of renewable raw materials such as rapeseed and castor oil and chalk. The flooring is produced without the addition of chlorine, plasticisers or solvents and is therefore completely harmless to health.
Selected flooring designs for the bathroom