The kitchen - a place of community
For many families, the kitchen is a place of community. A lot happens here, many moments take place here, people simply spend a lot of time here. People cook together and the family gets together after a long day to spend time together over dinner. You feel at home in the kitchen.
But it can also get very hectic and stressful in the kitchen, for example on holidays or when major celebrations are coming up and the whole family and friends are at home. It can happen very quickly that something gets broken or falls on the flooring. Of course, it is annoying when the flooring is damaged. Above all, you want to avoid moisture, aggressive food residues or chemicals attacking the flooring and damaging it.
Therefore, when choosing a suitable flooring for the kitchen, you should find out exactly which flooring suits you.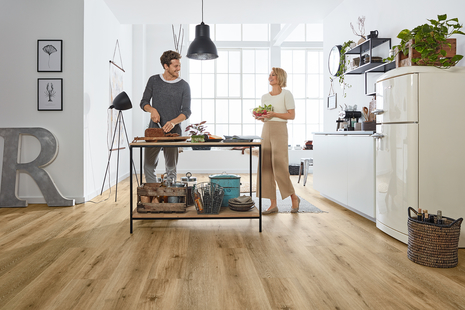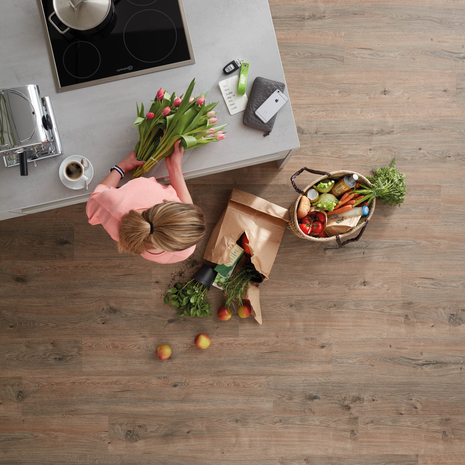 The design and the optics are important
First and foremost, the look or design of the kitchen flooring is crucial. The colour tone and decor should match the worktop or serve as an accent to the kitchen fronts. Thanks to the many designs and decors, there are countless possibilities for achieving a harmonious play of colours that suits personal taste.
After that, you should think carefully about the material. Tiles are often laid in a kitchen because they are very robust and resistant. Tiles are available in different versions, e.g. as ceramic tiles or marble tiles. Due to the material, tiles have a decisive disadvantage: they are very cold and walking comfort on tiles is not very pleasant because the material is very hard.
The exact opposite is resilient flooring, such as a design floor, vinyl floor or the wineo PURLINE organic flooring. These resilient floorings come in different designs and formats. Tile formats in particular have experienced strong growth in recent years, so that there are now many designs in the classic tile format. The design spectrum covers all looks, from classic marble, slate and travertine to concrete and fantasy looks. In other words, all the designs that are also familiar from classic tiles.
Resilient flooring in the kitchen
However, resilient flooring has the distinct advantage of having a soft surface compared to tiles and laminate flooring, making it very comfortable to walk on. The surface of vinyl flooring or PURLINE organic flooring is also warm to the feet and therefore very pleasant to walk on barefoot. In combination with underfloor heating, a feel-good atmosphere is therefore guaranteed.
The resilient flooring from wineo is also characterised by excellent cleaning properties and is very robust and resistant. PURLINE organic flooring in particular impresses with its very high resilience: So if you ever move heavy furniture after a while, the PURLINE organic flooring recovers quite quickly and the pressure marks disappear. And the special thing about PURLINE organic flooring: it is a sustainable floor covering based on ecuran, a high-performance composite material. No softeners, no added chlorine.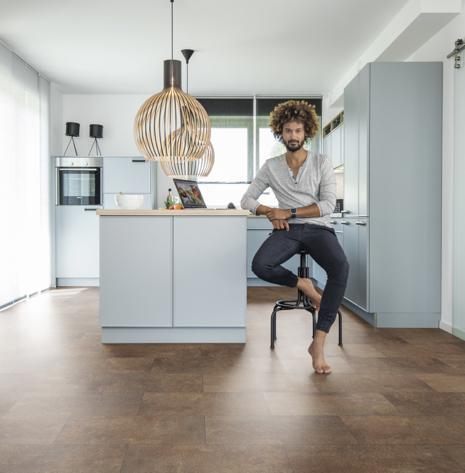 The quick installation is convincing
For a quick renovation of the kitchen, you can fall back on different installation methods for resilient flooring. Whereas tiles, for example, have to be firmly glued to the subfloor, you have the option of laying wineo vinyl flooring, design flooring or PURLINE organic flooring on the floor without adhesive. As a click version in 4.5 mm or 5 mm, you simply lay the individual planks on the underlay mat provided. The locking system ensures that installation is quick and easy. The flooring can thus be laid quickly without noise or the need for a lot of tools. All you need is a cutter knife to cut the panels.
You can also install the adhesive version of the vinyl flooring or PURLINE organic flooring without applying any adhesive. Our self-adhesive silentPREMIUM underlay mat is suitable for this. You can attach the individual panels butt to butt on the underlay mat and adhesion sets in after a few minutes. However, this type of installation is only approved for private use.
You can find out more about the individual installation methods here. After installation, the flooring can be walked on immediately and the furniture can be put back in place.
Selected decors for the kitchen