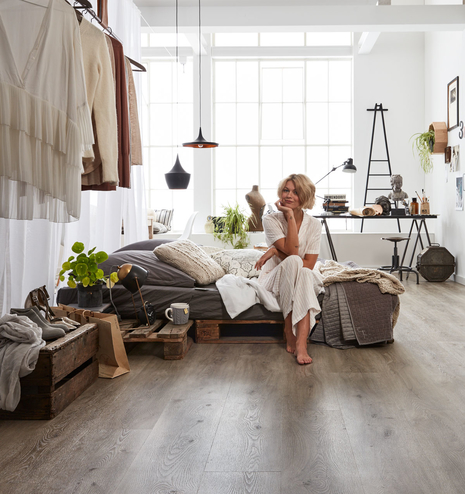 The bedroom - the personal retreat
Who doesn't dream of the perfect bedroom, with a high ceiling, warm light, the perfect wardrobe and personal accessories?
Even if you consciously spend the least amount of time in the bedroom, you still put a lot of love into the design and furnishing of the bedroom. In addition to the classic furniture such as wardrobe, chest of drawers, bed and lamps, there are often many personal items, as the bedroom is a very personal retreat. Here, everything must be coordinated and the right flooring also contributes to making you feel incredibly comfortable in your bedroom. Here, too, you often walk around barefoot, so the flooring material should have a pleasant and warm surface.
A resilient floor turns the bedroom into a personal oasis of well-being. Now it depends on your personal taste and style, whether the flooring should be light or offer a dark contrast to the often light room design.
Preparing the right flooring for good sleep
Many people prefer to sleep with the window open so that they can enjoy a restful night's sleep in the fresh air. Materials that are free of harmful vapours are also in demand when furnishing the bedroom. This applies above all to the floor covering. When lying in bed, you come closer to the flooring than you ever do when breathing - and that for many hours.
PURLINE organic flooring contributes to a healthy indoor climate in the bedroom. The basis of this polyurethane floor covering is the high-performance composite material ecuran. It is the result of many years of development work by Windmöller and is composed mainly of renewable raw materials and natural fillers such as rapeseed or castor oil and chalk. It does not require the addition of chlorine, plasticisers or solvents and meets the strict criteria of environmental certificates such as Cradle to Cradle and Blue Angel.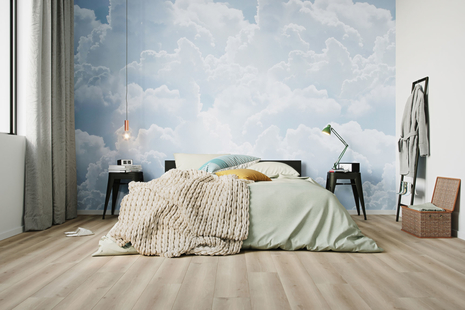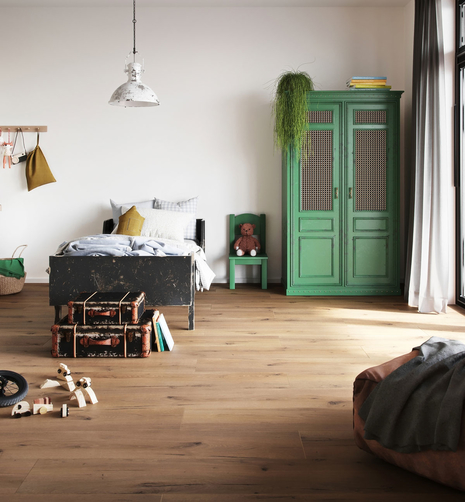 PURLINE organic flooring - The flooring for the bedroom
Another plus, especially in bedrooms: The organic floor is quiet and pleasantly warm underfoot. This makes it easier to get up early in the morning. And you can sneak out on quiet soles if necessary. The surface is easy to maintain. A damp wipe is all it takes. This is particularly advantageous for a room where a lot of dust is generated by bed textiles and clothes.
PURLINE organic flooring offers a wide variety of designs. With warm wood looks, trendy stone designs or discreet plain colours, bedrooms can be designed exactly according to your own ideas.
PURLINE organic flooring is available for gluing and clicking in attractive plank formats. The latest wineo 1200 collection not only offers top-selling designs, but is also ideal for renovating existing rooms thanks to its intelligent click systems.
There is PURLINE organic flooring for gluing and clicking in attractive plank formats. The latest wineo 1200 collection not only offers top-selling designs, but is also excellently suited for renovating existing rooms thanks to intelligent click systems.
Selected flooring designs for the bedroom