The wineo range of accessories offers skirting boards for all design requirements and rooms. The skirting boards are available in various shapes and colours.
In addition to a wide range of decorative skirting boards, the wineo accessory range also offers monochrome skirting boards, e.g. in white and stainless steel. Here we explain the different skirting board variants to you at a glance!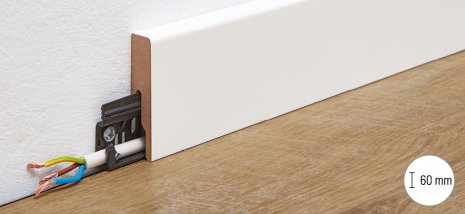 Creative people use the wineo Contrast skirting boards. This strip can be used in white for any decor or painted over in any colour.
The wineo Hamburger skirting board fits the old building as well as a modern interior, especially impressive with a height of up to 10 cm.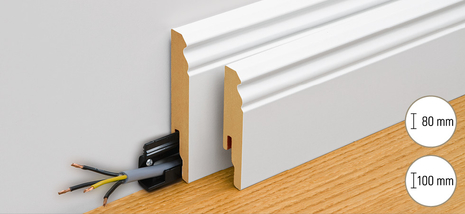 The wineo Unity skirting board with its decor matching the floor covering creates a uniform spatial image. The plain skirting is available for all wineo floor coverings.
In white and with stylish, discreet decorative stripes, the wineo design skirting board fits in particularly well with modern furnishing styles. Thanks to its height, it is very decorative, which can already be regarded as a decorative element in the room.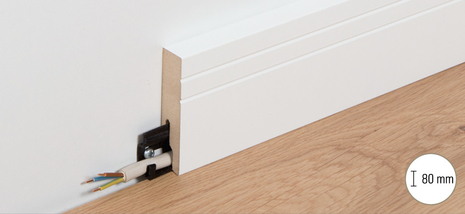 In bathrooms and kitchens the air is high humidity, the mop is moving around and an optimally closed surface is required. No problem with the right skirting board - the wineo Waterproof skirting board can withstand it.
Show clear edge. The wineo Classic skirting board in white makes a clear statement, cubically straight without frills and thus sets clear accents in modern surroundings.
The wineo Classic skirting board in stainless steel look can be used as a neutral design element if a white skirting board or with the same decoration is not used.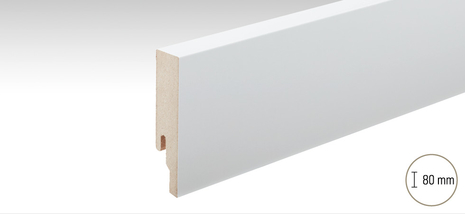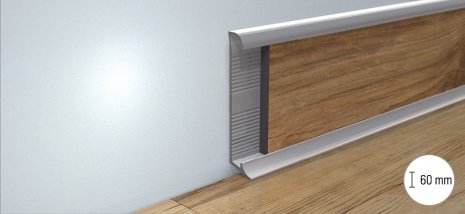 Palcing the floor decor directly as a skirting board on the wall? With the wineo aluminium slide-in skirting board a strip of the flooring can easily be inserted. The skirting board is very decorative and provides an attractive and modern transition between wall and floor.