Warm feet and quiet rooms
And save energy at the same time
After a long working day, look forward to cosy hours at home, preferably in sweatpants and your favourite sweater - who doesn't love that? Still it runs more relaxed in cuddly socks, if the floor not only looks chic, but is also pleasantly warm. And on heated floorings are underlays made of bio-polyurethane the premium class.
Underlay mats made of Bio-PU are environmentally and health friendly, quiet and durable, even heavy furniture is left behind in the material no lasting impressions. Above all, the mats let the heat through well: The floor heats up quickly and with it the whole room. So the feel-good time begins earlier and you also save energy: a bio-PU underlay reduces heating costs. All the more reason to enjoy the evening after work.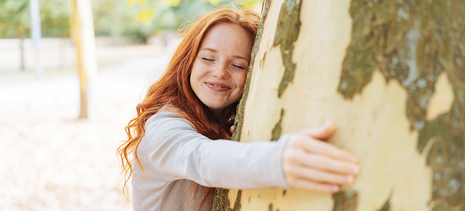 fast, energy-efficient distribution of soil heat
excellent noise reduction on hard and soft floors
long-life performance of at least 30 years
Resetting behaviour almost 100%.
sustainable raw materials
without addition of chlorine, plasticizers and solvents
certified sustainability: Blue Angel and Cradle to Cradle®
Bio-polyurethane (ecuran) from Windmöller
Material for the future
Polyurethane is not new: For more than 80 years, this high-performance plastic has proven its worth in the most demanding areas, such as the automotive industry and medical technology. However, some components, the polyols, have so far been produced petrochemically, i.e. from crude oil.
The ecuran bio-PU from Windmöller consists primarily of renewable and natural raw materials, such as vegetable oils and chalk, and dispenses with critical ingredients such as plasticizers, solvents and chlorine. And it doesn't compromise performance - a revolution, not just for the flooring.
Seals and quality marks help with the purchase decision: They identify products whose manufacturers pay attention to quality, safety, health and environmental protection.
Since 1978, the Blue Angel has stood for particularly environmentally friendly products, making it one of the oldest eco-labels in the world. Our wineo accessories are also certified: For example, all mats made of organic PU carry the Blue Angel and the Cradle to Cradle® certificate.