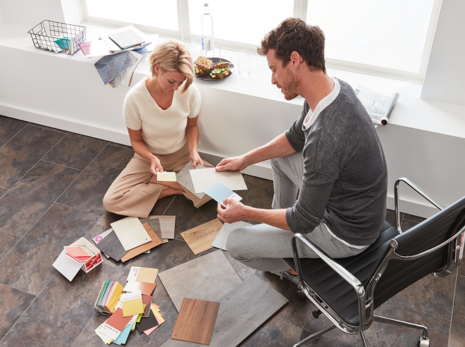 NICKNAME: RENOVATION FLOOR

Why is wineo 600 rigid also called "renovation floor"? This is because the floor can be laid quickly and cleanly and, with existing floor coverings, hardly any substrate preparation is necessary. The results are so comfortable, stable and stylish that you can only be amazed. This floor can be laid over existing substrates without trial and error, without the
thickness becoming too high. No grinding down or tearing anything out. Few tools, little dirt – the ideal renovation floor.
RIGID - WHAT DOES
THAT EVEN MEAN?
ri|gi|d
"rigid, stiff."
The term "rigid" is currently on everyone's lips when it comes to floor coverings. Rigid floors are multilayer design coverings with rigid carrier boards - also known as Rigid Core or Rigid Board. They belong to the product group of floating click design floors. Rigid design floor is a variant of the design covering to click. Instead of an elastic product core, a hard carrier board is used for rigid design floors. This gives the floor a better shape and locking stability.
1. HARD BUT ELASTIC
Thanks to the smart product construction, wineo rigid is significantly stronger than classic, elastic floors, but at the same time gentle on the joints, sound-absorbing and pleasantly warm to the feet.
2. DURABLE AND STABLE
In contrast to many other Rigid floors, the robust design floor passes the "Type W" chair roller test with 25,000 revolutions, which confirms its longevity. In the system with the new wineo silentRIGID underlay mat, this performance is additionally increased and the whole package is even quieter.
3. TELE-STOP FUNCTION
Minor unevenness on existing substrates does not telegraph trough. Minor unevenness on existing surfaces does not telegraph trough.
4. LOW OVERALL HEIGHT
The wineo Rigid floor measures just 5 mm, plus the additional silentRIGID underlay mat of only 1.2 mm. That makes a slim 6.2 mm overall.
5. WATERPROOF
Thanks to the water-resistant properties of wineo 600 rigid, it can be used without hasitation in humid areas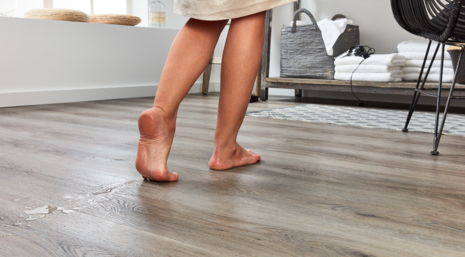 POWERFUL COMBINATION
WITH BEST PERFORMANCE
It's the mat that counts!
The silentRIGID underlay mat was specially developed for rigid design floors. Only trogh the combination of rigid flooring and matching underlay mat do all the benefits of your new floor really come into their own, silentRIGID provides stability, quietness and pleasant feeling when waking with a low product thickness of 1.2 mm. The underlay mat and floor together measure just 6.2 mm height - a "slim miracle" for easy renovation.
THE UNDERLAY MAT IMPRESSES WITH
...best results in the castor chair test
...high compressive strength
...long durability
...high noise reduction
...sustainable raw materials
...excellent product quality
Castor chair test
WINEO RIGID HOLDS AND HOLDS
We have subjected various rigid floors with underlay products (IXPE, XPS, PU underlays) to the Type W test procedure. wineo rigid was one of the few to pass the test with flying colours. Especially with the PU underlay mat silentRIGID, the click connection is so stable that you can even go crazy on this floor.
Rigid floor with sophisticated construction
SOFT SHELL, HARD CORE
The design of wineo rigid combines two seemingly contradictory properties: The stability of the rigid core with the elasticity of a classic design floor.
For this we have chosen a kind of "sandwich structure", in which the core consists of a rigid polymer material coated with elastic outer layers. This makes our Rigid more elastic than conventional Rigid floors and more stable than classic design covering. Most rigid floors are constructed with a rigid product structure. Our construction, which is positioned precisely between these two variants, combines the best properties from the two worlds of elastic and rigid design floors.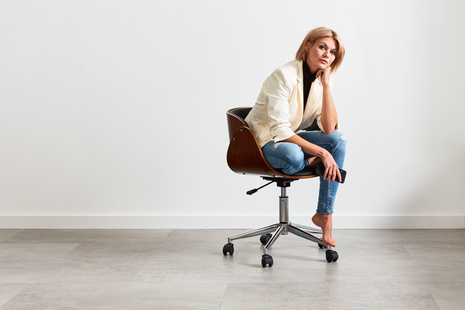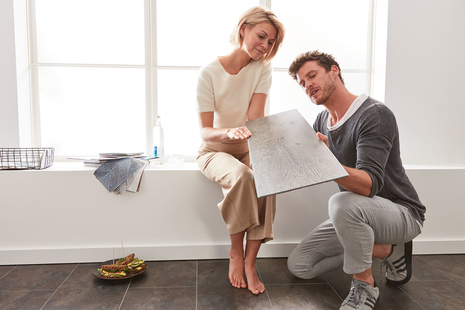 6 MYTHS ABOUT RIGID FLOORS
Many statements about rigid floors are circulating on the market. They clearly state the many benefits of hard-wearing design covering, not all of which are verifiable. So that you can enjoy your new Rigid floor for a long time, we are going to explain what these assertions are all about.
Harder is better
"Rigid is always better than an elastic design floor"
Rigid floors have many benefits due to their hardness. But if you compare them to classic, elastic
design coverings, rigid floors, thanks to the use of SPC, are rigid, noisy and not so pleasant to walk on. We have therefore developed a rigid floor that has a stable product core while the outer layer remains elastic.
No problem with a conservatory
"All Rigid products can easily be laid in conservatories"
Wrong conclusion! Only because the rigid floor is dimensionally stable, i.e. can tolerate heat well,
it is not automatically suitable for conservatories. This is because the surface can change under
extreme sunlight in the same way as with other floor coverings.
No need to warm up
"Rigid floors can be laid directly without acclimatization"
Even though the floors look as hard as stone, these materials are still adjusting. We therefore recommend that the product be left up to 24 hours before installation.
Mat not always necessary
"Rigid floors can be laid without underlay mats"
We do not advise that. Most Rigid floors are constructed in such a way that they would be much too noisy without the underlay mat. We recommend using an underlay mat in any case. With our silentRIGID, specially developed for rigid floors, the click connection is particularly stable. Smaller unevenness of the substrate is compensated and the sound is further reduced.
Just put down and finished
"The substrate preparation is not necessary when laying Rigid floors"
This is a fallacy. We also recommend preparing the substrate for these floors ... even if smaller irregularities do not telegraph through. We therefore speak of the "Tele-Stop" benefit
with our rigid floor.
Finally seamless
"Rigid can be laid troughout the house without expansion joints"
That is a frequently heard rigid myth. Rigid product is dimensionally stable, but there is no guarantee that the completely non-joint installation will work in the long term. We recommend using at least expansion joints between the doors. For further information please use our installation instructions.