Performance laminate flooring
Flexible, easy to install and proven a thousand times over – laminate flooring is the uncomplicated solution for everyone who wants a quick and beautiful solution. Laminate flooring is ideally suited for almost every room. With the special edition of Rock'n'go, wineo is making it even better, offering you an innovative laminate-flooring solution that has everything you need.
Enjoying life to the max, full throttle and without compromise – Rock'n'Go is the laminate flooring that simply rocks. Complete, uncomplicated and innovative. Make your life the ultimate stage. With Rock'n'Go, you've got everything you need.Rock'n'Go is quiet underfoot, has maximum moisture resistance and is delivered in such a way that it can be installed immediately and simply. Now that rocks!
MOISTURE-RESISTANT
The new Aqua-Stop technology keeps Rock'n'Go protected from liquids and moisture. Imperceptible quelling – up to four times less than with conventional flooring.
EASY CARE
Thanks to the melanine resin overlays, Rock'n'Go is
child's play to clean.
QUICK TO INSTALL
No further material needs – thanks to its Install
Ready technology, Rock'n'Go is directly ready
and as a result quick to install.
SUITABLE FOR WET ROOMS
Thanks to Aqua-Stop technology, Rock'n'Go is also
exceptionally suited for wet rooms.
PARTICULARLY QUIET
Extremely quiet sound behaviour thanks to the new Sound-Stop technology. Rock'n'Go is up to 40 % quieter than conventional laminate flooring –
comparable to a high-quality parquet installation.
SUITABLE FOR UNDERFLOOR HEATING
Rock'n'Go can be installed without any problems
onto an underfloor heating system.
DURABLE
Rock'n'Go is stain resistant. Even furniture or chair
castors leave no traces.
UV-RESISTANT
Even when exposed to sunshine, the Rock'n'Go
laminate flooring does not change thanks to its high UV- resistance.
ANTISTATIC
The static charge of the surface, for example with
dry room air, is reduced and dust does not adhere to the surface
See the effects of our Aqua-Stop technology
Experience the effects of our Sound-Stop technology
See the benefits of our Install Ready technology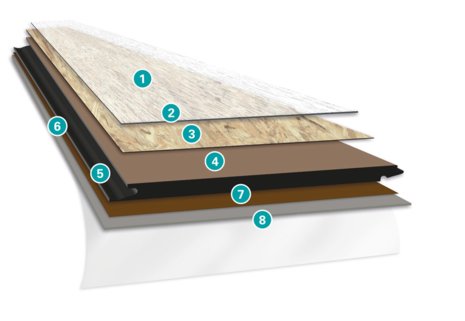 Surface structure

Different surface embossings provide an extremely high level of authenticity.

Wear layer

The particularly robust melamine resin overlay is the basis for classification into the appropriate fields of application.

Decor

The decor paper offers a diverse range of design possibilities

Core board

The highly compressed HDF core board is swell-resistant.

Profile connection

Thanks to its Fold-Down locking function, the product is very simple and quick to install.

Aqua-Stop profile seal

The innovative profile seal protects the entire sealing system from moisture and is consequently highly moisture-resistant.

Backing

The melamine resin backing serves to balance and guarantees high form stability.

Sound-Stop Layer

All products have an integrated Sound-Stop Layer including protective film. When the protective film has been removed, the former is fixed firmly to the subsurface. Consequently, both he walking and impact sound levels of the floor are dramatically reduced.
Dekorübersicht wineo Rock'n'Go 12 Results