Proven quality
The Pfiff Institute for Applied Building Cleaning Technology based in Memmingen, Germany, has carried out a thorough investigation into the properties of PURLINE organic flooring. The main focus was analysing life-cycle costs. A number of characteristics were tested, including the level of resistance i.e. how easy it is to clean faced with the demands of everyday use.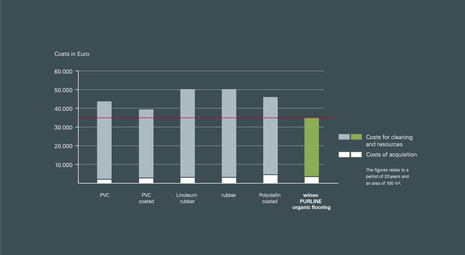 The results of the analysis verified the outstandingly high quality of PURLINE organic flooring, with the study concluding that: "Its resistance to chemical and mechanical influences is exemplary, as is its environmental compatibility. PURLINE organic flooring has much lower life-cycle costs compared to all other floor coverings currently available on the market". The Pfiff Institute believes that this floor covering would be economical and practical to use in very heavily frequented areas such as medical facilities, department stores, schools, airports and other public buildings.
Remove dirt without leaving any residue – lower cleaning costs, save resources
All conventional cleaners, regardless of whether they are acidic or alkaline, can be used without any problems; PURLINE floor coverings from wineo are shown to be completely resistant.

With a closed surface and low level of friction, the floor coverings can be mopped more rapidly and easily.

No need to polish or treat the floor afterwards.
Extremely easy to disinfect – viruses don't have a chance
All surface disinfectants can be used on floor coverings without any problems.
Direct contact tests, which are carried out to test the hygiene level of surfaces, prove that the flooring can be effectively disinfected.
Furthermore, contrast agents commonly used in hospitals do not discolour the floor coverings
Absolute resilience – as good as new after years of use
Thanks to a resilience level close to 100%, no imprints as a result of furniture are visible after the flooring is briefly buffed.
Mechanical endurance tests prove that the surface does not become visibly scuffed.
Its level of resistance to rays of sunlight is extremely high